Objectives

Forecast a set of 11 or 111 time series as accurately as possible, using methods from computational intelligence and a consistent methodology. We hope to evaluate progress in modelling neural networks for forecasting & to disseminate knowledge on "best practices". The competition is conducted for academic purposes and supported by a grant from SAS & the International Institute of Forecasters (IIF).
Methods
The prediction competition is open to all methods of computational intelligence, incl. feed-forward and recurrent neural networks, fuzzy predictors, evolutionary & genetic algorithms, decision & regression tress, support vector regression, hybrid approaches etc. used in financial forecasting, statistical prediction, time series analysis
Publication of Results
In order to facilitate interdisciplinary research & submissions from different academic disciplines, the results will be presented at various conferences in 2007 at various locations in Europe, USA and Asia and in different disciplines of neural networks, engineering, computer science, management, statistics and operational research in order to limit a publication & submission bias through disciplines, locations and submission timing. Authors may choose to attend one or more conference workshops, where the approaches are presented. All those submitting predictions will be invited to participate in sessions at the 2007 International Symposium on Forecasting, ISF'07, New York, 2007 International Joint Conference on Neural Networks, IJCNN'07, Orlando, 2007 International Conference on Data Mining, DMIN'07, Las Vegas and / or a European and Asian conference yet to be agreed. Each workshop will provide numerous best paper & best submission awards by dataset for students and non-students. All submissions will invited to submit papers to the conference special sessions and proceedings. The most successful authors will be invited for a joint submission to the highly acclaimed International Journal of Forecasting (ISI SCI, ScienceDirect etc. indexed).
LATEST NEWS
The NN3 results are finally ONLINE [here]!
Apologies for the delay due to technical, administrative and unfortunate personal reasons!
The NN3 workshop keynote of Dr. Werbos was recorded and will shortly be published here
The IJCNN workshop keynote, which addresses the importance of forecasting problems and competitions was recorded as a movie which will shortly be shown [here]
Dr. Paul J. Werbos has to hold the IJCNN workshop keynote speech of NN3
Friday, August 17.08.2007, 8:30-9:30
Crystal Ballroom E
@ IJCNN'07, Orlando, Florida, USA
No disclosure of true test set values !!!
Please be advised that the test set data for the NN3 datasets will NOT be disclosed until mid 2008 due to a follow up test!
Competition is closed!
Submission to the NN3 competition is now closed. Thank you all for participating. We will analyse the results and disclose them at the individual conferences and afterwards on the web. All results will be published by late August.
Over 50 Submissions to NN3!
Thank you all for participating! We have received 53 submissions for the reduced dataset and 29 submissions for the complete dataset. All submissions will be now ranked by conference and in total!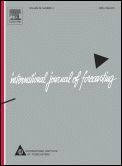 Journal Publication
Selected papers will be invited to submit full papers to a special issue on "Forecasting with Neural Networks" of the IJF - International Journal of Forecasting
IJCNN'07 cash prizes & awards
The IJCNN conference committee has set out 3 prizes of $150.- for the best IJCNN submissions to the NN3 competition
IJCNN'07 paper deadline extension
The submission deadline for IJCNN'07 has been extended to 12 Febuary 2007.